Celestun Special Biosphere Reserve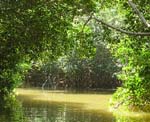 Celestun Special Biosphere reserve is a 146,000 acre park located at the north-western tip of the Yucatan Peninsula. Celestun is a combination of coastal scrub, estuary, and mangrove, which together provides an excellent habitat for wildlife of many sorts. Celestun means "painted stone" in the Mayan language.
Celestun is probably best known for its Flamingos, but is also host to over 300 other species of birds, including the endemic Yucatan Wren, Mexican Sheartail, and Black-throated Bobwhite. In addition to birds, Celestun houses many species of reptiles, including 2 crocodile species: Morelet's and American, 4 sea turtles: Hawksbill, Green, Loggerhead, and Leatherback, iguanas, land turtles, and Boa Constrictors.
Probably the best way to acces Celestun is to take a guided boat ride. If you get a good guide you are sure to see a lot of wildlife. We recommend Alex Dzib.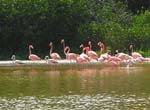 Reserve Information
Wildlife
Accomodation
Hotel Eco Paraiso is an ecologically conscious hotel that is located on the beach close to the Reserve. They provide a lot of good information on their website.

Spanish translation