Fishes of the Yucatan Peninsula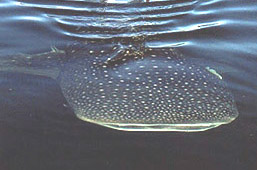 Whale Shark (Photo copyright 2005,
Keith Jones)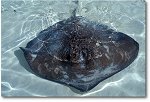 Photo by Claudio Contreras Coob, Amigos de Isla Contoy
Whale Shark - Rhincodon typus
The Whale Shark is the largest species of fish and quite unlike the stereotypical shark image. It is quite docile and harmless to man. It feeds on plankton and other small marine creatures. It grows to a maximum length of 20 metres (60 ft).
Isla Holbox (pronounced HOLE-bosh) is one of the best places to see these gentle giants. From May through October, Whale Sharks gather in the waters off this island. July to September are the best months. They can be easily seen by going on one of the many boat trips available here. You can even snorkel in the water close to the sharks as long as you follow the rules.
Isla Mujeres is another good location. They hold an annual festival in July.
Oceanic Fishes
Freshwater Fishes
Other Marine Life