Sian Ka'an Biosphere Reserve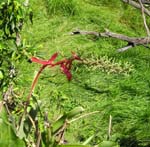 Sian Ka'an - Maya for "Where the Sky is Born" - is one of the best habitats in the Yucatan peninsula to look for wildlife. It covers over 1.6 million acres. It has many ecosystems, with equal parts lowland tropical forests, wetlands (marshes, flooded savannahs and mangrove forests), and coastal and marine habitats (lagoons, bays, and coral reefs). The reserve's boundaries extend to the Caribbean and encompass 68 miles of the Mesoamerican Reef, the second largest barrier reef in the world.
103 species of mammals have been recorded. It is home to all 5 of the wild cats found in the peninsula: Margay, Ocelot, Jaguarundi, Jaguar, and the Puma. Other mammals include Tapir, Tamandua, Manatee and Dolphins. Not only that, but Sian Ka'an is also home to over 345 species of birds, including many endemic species. 42 species of amphibians and reptiles have been recorded. In the marshes and wetlands of Sian Ka'an Morelet's and American Crocodiles can be found, and in the marine environments, you can find Loggerhead, Green, Hawksbill and Leatherback sea turtles. Over 52 species of fish have been recorded.
Sian Ka'an is possibly one of the greatest places to explore because of its remoteness, as it is closed to the general public. To get into this magical habitat, you need to contact someone who has permission to enter. Ismael Caamal is one of the best guides for this area.

Amigos De Sian Ka'an
A non-profit organization dedicated to conserve the biodiversity of the state of Quintana Roo, and in particular, Sian Ka'an.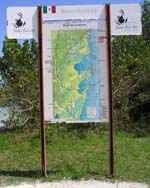 Checklist Of Bird Species Found In Sian Ka'an
A checklist provided by Avibase of birds found in Sian Ka'an Biosphere Reserve.

CESiaK: Centro Ecologico Sian Ka'an
A non-governmental organization that raises money to conserve, and educate people about Sian Ka'an.

Workd Heritage Site Fact Sheet
Sian Ka'an is one of the two sites in Mexico that has been declared a World Heritage Site by UNESCO for natural (vs. cultural) heritage. This fact sheet is provided by UNEP.

Sian Ka'an is for the birds and other creatures
An article from Christian Science Monitor about Sian Ka'an

Loco Gringo Article On Sian Ka'an
Short article by Loco Gringo on Sian Ka'an