Ria Lagartos Biosphere Reserve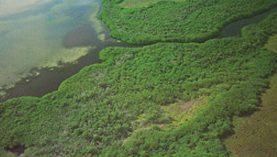 Ria Lagartos Biosphere reserve is located at the north-eastern corner of Yucatan state. Celestun is a combination of Yucatan dry forest and mangrove wetlands. It is on the Ramsar list of internationally important wetlands.

Ria Lagartos has a thriving flamingo population with good breeding success in recent years. It has over 50 species of mammals and over 300 species of birds. Additionally it has many species of reptiles and amphibians, including 2 crocodile species: Morelet's and American and 4 marine turtles: Hawksbill, Green, Loggerhead, and Leatherback.

Park Profile from ParkWatch
Details regarding geography, biodiversity, conservation and threats.

Long threatened, the fragile Mexican flamingo population is now soaring
An article by S. Lynne Walker in the San Diego Union-Tribune, May 24, 2006.

Spanish translation